Happy Valentine's Day from AirTurn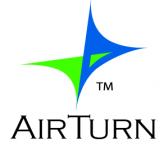 Happy Valentine's Day! 
Are you looking for the perfect Valentine's Day gift? Help the musician in your life get from gig to gig with AirTurn's portable and compactable mic stands and universal tablet holders. 

Use code LOVE14 at checkout and receive 14% OFF the goSTAND, BOOM, MANOS Universal Tablet

Holder

and Sidekick

stands

! This deal is available until

February 14th

!
AirTurn & Ultimate Guitar!

Tab HD & Tab PRO now work with AirTurn Pedals. Go to your account settings and look under MIDI Controller. While the pedal is connected to your smart device, tap SCROLL TAB UP under MIDI MAPPING and then hit the pedal you want to control that function. You can then do the same with SCROLL TAB DOWN.
If you need support or have any questions please don't hesitate to contact me at Dave@AirTurn.com

I'm happy to help!
Meet String Specialist, Ellen Angelico!

Ellen Angelico is a Chicago-born, Nashville-based utility player, specializing in stringed instruments. You can find her playing with a number of bands across the nation. With an ever-changing song list she keeps her notes and setlists on her tablet, next to her pedals and controls the page turns with the AirTurn DUO. Check out her videos HERE!
Tags: AirTurn, deals, gift, gifts, music, musicians, valentine's day offers, valentine's gift offers
Trackback from your site.