Celebrate Your Pet TODAY with Deals and Contests!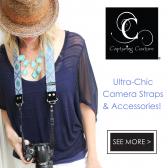 It's National Dog Day! 
According to the Humane Society, 

there are still more than 2 million dogs and cats that are waiting to be adopted each year. Why not #Love One?! 

It's National Dog Day TODAY! and we want to celebrate the millions of dogs who keep us safe and bring us comfort and joy each day. 

 

Here's are some great organizations that will help bring you together 

with your next best friend:

Adoptapet.com     BestFriends.org     PetFinder.com 

If you are already a proud owner of a dog, 

please consider donating to one of these worthy organizations. 

#LoveOne 

CLICK HERE and SAVE 20% on all Dog Products!
 Coupon code: CCCSHOP20
offer expires at midnight on August, 28th. Hurry and SAVE!
RUFF! Celebrate Your Dog Day! 
At Capturing Couture, we share a deep appreciation for our connection with our dogs. So why not do something for your loyal fur friend to celebrate! Here's just a few fun ideas:

Host a "

Yappy Hour"

for your dog and dog friends! Invite doggie friends over and celebrate with other dogs and your friends!

Treat your dog to a new toy! (or 2 or 3!) Click here for 2015 dog toy reviews! 
Head out to your local dog beach for a fun day with your pooch in the sun! 
Adopt a dog from a shelter today! Click here to find a local shelter! 
Enter your dog in our photo contest for a chance to win one of our pet products! 

Pawfect Gifts for Your Fur Friend
DESIGNER DOG BEDS

Our new Sofie Rover Dog Beds by Capturing Couture are something to celebrate!  Offering your pet ultra-comfort and style for your furry friend!  Our Star-Spangled Dog Beds are Boutique Style, made with the finest materials, and constructed with lots of fun pattern play.  

Buy Now

COUTURE DOG LEASHES

Finally a leash that is so adorably cute, both you and your pet will look forward to the next outing. These unique designs feature beautiful Organza roses from clip to handle, so you and your fur-ever friend can make a style statement wherever you go!   

ADORABLE DOG VESTS

Treat your fur-friend to a Vest Harness that's reversible and functional! Get your dog dressed up and secured in the car for a fun-filled day outside! Our fashionable Vest Harness's are dog-gone adorable! And there are matching leashes too! 

Tags: discount, discount code, dog, dog beds, dog coat, dog coats, dog collars, dog day, fashion, free shipping, national dog day, sale, savings, voucher codes
Trackback from your site.