Get to know ProBikeKit.com! Hottest suggestions for the 2014 season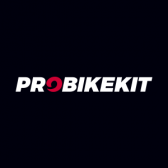 Did you know that ProBikeKit is the best online cycling store? Here's why! For starters, the team that runs ProBikeKit is all roadies, so they spend any free time riding.  That's why they know what works best, and choose only the right manufacturers and products for their site. As one of the top online road websites, they get treated pretty great by all the cycling manufacturers, who ensure they are among the first to see the latest gear.  They also attend all the major bike shows in Vegas, Germany and London to check out the new products up to 2 years before they are released to the public. Though they are based in the UK, ProBikeKit has a designated customer services team who are on call 12 hours a day answering questions, offering advice and helping resolve any issues a customer may have.  As a truly international company, they are 100% focused on offering fantastic service no matter where their customers are located.
NOW FOR THE GOOD STUFF
Latest trends in cycling gear for 2014
Getting your bike ready after the winter?
Make sure you've got
What new releases are coming soon?
ProBikeKit affiliate program
, exclusively on Affiliate Window?  Join today, and enjoy the latest in cycling products from the industry leader, complete with a great commission program, 30 day cookie, special deals always available, and more.
Tags: Clothing, cycling, probikekit, tires
Trackback from your site.