Graham &Brown: Up to 70% off in the sale!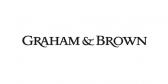 Dear Affiliates,
Graham & Brown are now offering   up to 70% off wallpaper & home accessories in the sale!
Up to 70% Off Sale
Start Date:12/02/16
End Date: 12/08/16
T&C's: It cannot be used in conjunction with any other offer, unless otherwise specified. USA only.This offer is valid for the Graham & Brown Online Store only.
To sign up to the Graham & Brown USA Affiliate Programme, please click here 
Don't forget, all affiliates can earn 10% commission until 12/16/16 on all sales!
If you have any questions about joining the affiliate programme or would like to know more about the brand, please don't hesitate to contact a member of the Graham and Brown account management team.
Additionally, if you have any opportunities for increased exposure, please get in touch !
Kind Regards
The Graham and Brown Account Management Team
lois.brown@twentysixdigital.com
Trackback from your site.