HELLO FATHER'S DAY 40% OFF COUPON!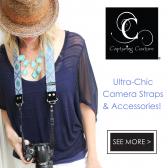 HELLO JUNE!       HELLO FATHER'S DAY!       HELLO SUMMER!
Use Promo Code:  
CCGDAD40
 at Check Out and Save 40% off any guitar strap from the men's collection!
Use Promo Code: 

 

CCCDAD40 at Check Out and Save 40% off any camera strap from the men's collection!
Promotion runs now through Wednesday, June 17, 2015 at Midnight 
"DAD AND ME" PHOTO CONTEST
We want to see your cutest Dad and Me Photo! 

We want to see all the cutest Dad and Me photos!! Look back at the year, and send us your best photos of you and your dad, and you could win a camera strap for your dad for Father's Day! Be sure to add a caption about why your dad is the best!

Winners will be notified by email. If a winner is unreachable after seven (7) days, or if that winner is unavailable for prize fulfillment, an alternate winner will be selected. If we cannot find an eligible winner for the prize, that prize will not be awarded.

WHAT'S NEW AT CAPTURING COUTURE?!  
LENS CAP SAVERS! 

Tired of misplacing your lens cap?  Our stylish cap savers will put your mind at ease!  The small decorative disk attaches to your lens cap with adhesive, and the elastic loop securely wraps around your lens.  Who says a lens cap can't be cute! 

Our *NEW* Dog Collection

Pets brighten up our dally life...Now there's a way to brighten up their's with our newest product, Organza Collars and Leashes!  These unique designs feature organza roses so you and your FUR-ever friend can make a statement wherever you go!  This dog collar also has a matching leash!  

SHOP LEASHES 

SCARF CAMERA STRAPS!

 

Our *NEW* Scarf Camera Straps are THE hottest trend...

 Accessorizing with scarves is a simple, adorable, and modern take on the statement necklace trend. They will

 make you want to carry your camera wherever you go! 

DESIGNER CAMERA STRAP COLLECTION!

Our Designer Collection of unique camera straps are the perfect mix of trend and tradition, and our beautiful creations have once again captured the essence of style and fashion!

Tags: 40%, Big coupon, camera, camera strap, cameras, Capturing Couture, dad, digital photography, discount, Father's Day, father's day coupon, father's day discount, Father's Day gifts, father's day promotion, guitar, guitar strap, music accessories, Music Merchandise, musical instrument, photography, £40 off
Trackback from your site.