Back to School Deals from AirTurn!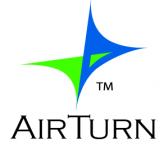 Back to School 
with AirTurn! 
SAVE 10% OFF Starting AUG 18th!
School is back in session and we want to make sure you are prepared to tackle all the new music ahead of you. Keep your eyes on the music and your hands on your instrument! 
Use code AIRB2S10 at checkout and receive 10% OFF the whole AirTurn store!
This offer starts Tuesday, AUG 18th and goes until AUG 23rd. We look forward to helping you make this school year your best year yet! 
Do you have your tablet secure with our Universal Manos Mount? It will hold your Smartphone and your tablet. What about a portable tablet stand that fits in your backpack? 
Our goSTAND will have you prepaired to perform in every classroom setting. Are you able to turn the pages of your digital sheet music without taking your hands off your instrument while practicing? 
The PED wireless foot controller controls your tablet while you practice and improve technique, site reading and exacution. *Works on Bluetooth Smart Ready Tablets and iPad 3 and above.
AirTurn is Helping Drummers Keep the Beat this Summer! 

NEW and Improved AirTurn TAP is HERE!

So what if you're a drummer and your hands and feet are busy? The AirTurn TAP provides a piezo interface that takes a tap from a finger or drum stick to trigger an event such as a page turn, sound effect, metronome, light show, set-list, backing track and bass player tempo controls!

Using all the same features as the BT-106 series transceiver, the TAP brings easy-to-use page turning and events to drummers and other active percussion players.

Comes with all mounting hardware to mount on any post up to 1.5 inches in diameter. Position can be set at any angle and height.

We've also partnered with Roland's BT - 1 for a single or double switch control. You can contact us if you have more ideas for a piezo pad control to command your tablet or iPad.

Find out more about Roland's BT-1 HERE!

 __________________________________________

If you have any questions, please don't hesitate to reach out to me at any time. 

Have a great week!

Thank you,

Dave Tamkin

The Gig 'N Go

Bundle Video

SAVE 20% on AirTurn's most popular collection of bestselling solutions for all musicians! 

We've combined the DUO, portable goSTAND with boom, and the MANOS mount with side arm. The DUO will work with any Bluetooth Tablet or iPad.
Tags: 10% off, AirTurn, back to school, coupon code, coupons, deals, discount code, free shipping, music, music accessories, music apps, music instrument, Music Merchandise, musicians
Trackback from your site.