Happy Mother's Day Gifts from AirTurn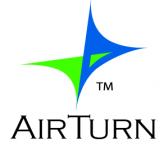 Happy Mother's Day from AirTurn
Happy Mother's Day on 

May 14th

!
Did You Find the Perfect Gift?
Perfect for the mom that needs to keep her hands free while playing her instrument, holding her tablet on stage, at the office or even while cooking with the family!
Use code MOM10 and receive 10% OFF the perfect mother's day gift from AirTurn!
Deal ends, Sunday May 14th!
Pre-order the new DIGIT III for Mom's working hard in the corporate world and want to control the next presentation from the palm of their hand!
When is the next time your Mom needs to rock? Pick up all our new goSTANDS, MANOS Universal Tablet Holder, DUO and PED Bluetooth tablet/computer/smartphone controllers for 10% OFF!
Pick up the Desk Mount with MANOS Tablet Holder for the Mom that needs a second screen at her desk or wants to use her tablet in the kitchen while the family cooks together.
The perfect solutions to keep your hands on what matters most in your life!
New BSTOCK Just Arrived
Please let me know if I can answer any questions by emailing me at
dave@AirTurn.com
Thank you for being a part of the AirTurn family!
Meet Jesse Garland

A distinguished artist, this dynamic singer, related to Judy Garland, has a voice that soars and holds the same magic as her famous bloodline.  Her songs rooted in jazz and blues take the classics in new directions while bringing in sounds from today constantly pushing the music to the edge.

Attending a Jesse Garland Project show takes you through a night filled with songs of all of the greats such as Judy Garland, Ella Fitzgerald, Etta James, Adele and even Nine Inch Nails.  You will find yourself entranced with the emotional performance and fresh sound of all of the standards you love. Be sure to catch a Jesse Garland show. You might find her soon, somewhere over the rainbow

"I really love the AirTurn Manos.  It allows me the flexibility to position my iPad in the right angle regardless of my setup.  I love the low profile as well so I can keep a clean stage and keep my eyes on the audience!  I really couldn't do a show without my AirTurn Manos!   --Jesse Garland, April 2017" https://thejessegarlandproject.com/
Tags: AirTurn, mom, mom10, moms, MOMSDAY14, mother's day gifts, musicians
Trackback from your site.